Graver-Driscoll House
The Legacy to the Ridge Historical Society
This Tudor Revival-style manor house, now owned by the Ridge Historical Society, was donated to the organization late in 1972 by James P. Driscoll, an electrical contractor and a director at Standard Bank and Trust Company. Justin O'Toole, president of Standard Bank, our Finance Chairman, and a member of our board of directors, earned the gratitude of the community in obtaining this priceless, outstanding property and building for the headquarters, museum and reference library of the Ridge Historical Society.
Tudor Revival-style residence built 1921-22
John Todd Hetherington, architect

The Graver-Driscoll House at 10616 South Longwood Drive and 10621 South Seeley Avenue was designed for owner Herbert S. Graver in 1921 and completed in 1922. Located atop the ancient Blue Island Ridge, the house is situated in the Beverly Hills neighborhood, a previous railroad suburb along the Chicago, Rock Island and Pacific Railroad. Herbert Graver, like many contemporaneous late 19th and early 20th century affluent homebuilders, was attracted to the rolling hilltop site along the Ridge for its view from above, as well as the achievement of status attained from below. The house is three-stories in height, of brick and stone, with eleven rooms, four baths, two powder rooms, large basement and a built-in two-car garage. While other homes constructed along Chicago's most distinctive topographical feature appear perched upon their sites, the Graver-Driscoll house is the most successful at integrating the house into the landscape through the use of walkout terraces that nestle into the hillside.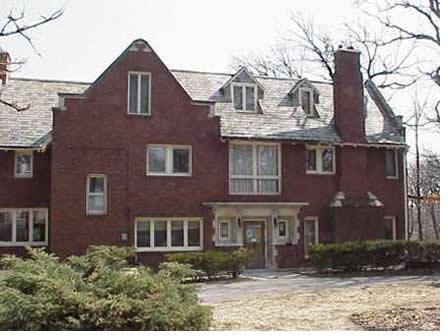 The designer of the Graver-Driscoll House, John Todd Hetherington, is one of the most notable architects of historic revival-style residential designs in the early 20th century along the Ridge. Born in Uxbridge, Canada on August 15, 1858, Hetherington was educated at the Ewart School at Newton Stewart in southern Scotland. His architectural training began with architect Park in Newton Stewart, followed by work with architect Reed in Edinburgh. At the age of 20, he came to the United States and settled in Chicago. In the rebuilding years that followed the Great Chicago Fire of 1871, Chicago offered many opportunities for architects. Hetherington entered the office of Treat and Foltz, where he remained for 8 years prior to starting his own firm where he designed numerous ecclesiastical, recreational, and residential buildings. Later in his career, he teamed up with his son, Murray, to form Hetherington Architects and Builders. John Todd Hetherington died in 1936 from complications caused by an automobile accident in the prior year.
Hetherington was a mature 63 years old when he was hired by Herbert Spencer Graver in October 1921. For the Graver family's new home, he designed a brick residence in the Tudor Revival-style. Hetherington was greatly influenced by his upbringing in Scotland and the country manor house tradition of the United Kingdom.
How Many Families Have Owned the Graver-Driscoll House?
| | |
| --- | --- |
| | |
| Herbert S. and Anna T. Graver | February 14, 1921 - October 2, 1940 |
| Grant and Grace Fenn | October 2, 1940 - April 15, 1946 |
| Nicholas A. Cummings | April 15, 1946 - February 11, 1963 |
| William J. and Myrtle Heim | February 11, 1963 - April 20, 1964 |
| James McHugh | April 20, 1964 - November 7, 1968 |
| James Driscoll | November 7, 1968 - December 21, 1972 |
| Ridge Historical Society | December 21, 1972 - Current |