Memorial Day Parade
Memorial Day is the federal holiday for remembering all who have died while serving in the country's armed forces. Through December 2014, the total number of Americans who have died in U.S. military service is 1,321,612.

Every year, the Beverly/Morgan Park community holds a Memorial Day Parade. The local community parade dates back to 1926, making it one of the oldest Memorial Day events in Chicago. The parade was started by the Beverly Hills Post 407 of the American Legion. Beginning in 1923, Beverly Post 407 paraded to Evergreen Cemetery on Memorial Day to decorate graves. Then in 1926, the Legion invited the community to participate. Through the years, numerous local groups, including the Ridge Historical Society, as well as families and individuals, have marched in the parade. Neighbors line the route to cheer and wave, some decorating their homes for the patriotic event.
2018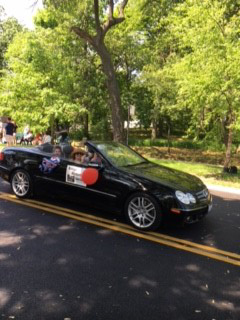 2015

RHS volunteers and officers were participants in the Memorial Day Parade carrying our banner with our theme " SAVNG HISTORY SINCE 1971". Carrying the banner and waving flags were Larry Brown, Patty Graber, Edris Hoover, Lois Schell and Bill Hopper.  Also in our group were friends and granddaughters of Lois and Herman: Lisa, Lindsey, Erin, Shelby and John.

For the second year the Rolls Royce Sliver Shadow belonging to and driven by Andrius Plioplys was the centerpiece of our group and much admired by those along the curb. In the car along with Andy was Sue Delves Past President of RHS and Herman Schell Director Emeritus.
All Photos taken by Jerry Rodriquez.